Basic Function:
App Remote Control: Support iOS (8.0 and above) and Android (4.1 and above) phone or tablet. Add, delete your smart switch, and turn ON/OFF, schedule it. Multiple languages are supported;
Compatible with Alexa, Google Home: This curatain smart switch works with Alexa and Google Home. After defining a name, such as "bedroom curtain", you can use voice control it by saying "Alexa, Open the bedroom curtain";
WiFi Connection (2.4G ONLY): It connects to the WiFi router directly, no hub is required. Please note that only 2.4G is support;
Advanced Function:
IFTTT Control: Works with IFTTT to control the smart switch according to your conditions;
Repeat Schedule: Repeat schedule is available. You can create a schedule to turn your whole home's switches off before go to bed at night;
Group Control: Create a group to control different home devices at the same time;
Mode Control: Create different modes in the App, and control it according to different modes;
Share Devices: You can share the devices to your family, and then different people can control it without setting up again.
Material: V0 Flame-resistant PC + Aluminum Alloy
Rated Current: 10A(Max)
Rated Voltage: AC100V - 240V, 50/60Hz
Maximum Motor Power: ≤600W
Wi-Fi: IEEE802.11b/g/n, 2.4GHz
Static Power Loss: ≤0.45W
Working Temp: 0℃~ 40℃
Installatin
Turn off power at circuit breaker or fuse box and test that power is off before wiring.(Please switch the light several times to make sure that the power has been disconnected;
Remove the existing switch and identify the wires with wire labels;
Install the smart wall switch and connect the wires as required;
Tuck the wires into the wall box leaving room for the smart switch. Using the screws provided, mount the smart switch to the wall box. Be careful not to crush any wires; (Note: Avoid overtightening the screws.)
Install the wall plate, turn main power on at the circuit breaker, and test the switch by pressing the button;
If it doesn't work, please check:
a, if the wiring is correct;
b, if the power is restored.
If it works, add the switch to the app following the "Quick Setup"
Quick Setup
Please open the app, and then tap '+' in the top right corner to enter "Add device(Accessory)" page. Select"Smart Wall Switch", and add it according to instructions.
* If the connection fails please move the hub closer to the switch, connect to power and try again.
Warning
A certain amount of electrical knowledge is required to install a smart wall switch. For your safety, we recommend that you ask a qualified electrician to help you install it;
This product is for indoor use only; do not use it in humid environment;
Do not install this product near a heat source;
IMPORTANT!: This Smat Switch is rated for and intended to only be used with copper wire.
Before you install
This product is only used to replace a single pole switch than a 3-way switch.
1 x SSCS86-03AJAI EU Standard Curtain Switch
1 x Wall Plate
1 x Plate Fixing Screws
1 x User Manual

Product Dimensions: (L*W*H) 86*86*43.5mm
Inner Packing. (L*W*H): 11.5*10.7*5.13cm
Outer Packing. (L*W*H): 55*27*45cm
Product Net Weight: 183.9g
Packing: 100pieces/carton
N.W/G.W: 19.5 KG
Part Number: YK-01-IFQ
Warranty: One year

Designed and Made in China
Featured App
---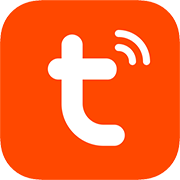 ---
Compatibility:
Requires Android 4.0 or later;
iOS 8.0 or later.
Tuya Smart/ Smart Life

With the Tuya Smart App, you can control all of your smart devices from anywhere in the world on your iOS/Android devices.
Tuya is the simple way to a smarter home. Download the Tuya Smart app and control your lights, appliances, or a whole room from your couch, coffee shop, or the Caribbean.


Remotely control home appliances from anywhere
Add and control multiple devices at once with one App
Voice control via Amazon Echo and Google Assistant
Interworking of multiple smart devices. Devices automatically start/stop working based on temperature, location and time
Easily share devices among family members
Receive real-time alerts to ensure safety
Easily and quickly connect Tuya Smart App to devices
More information about Tuya, visit www.tuya.com